Tablet activations surge over Christmas, but it's not all good news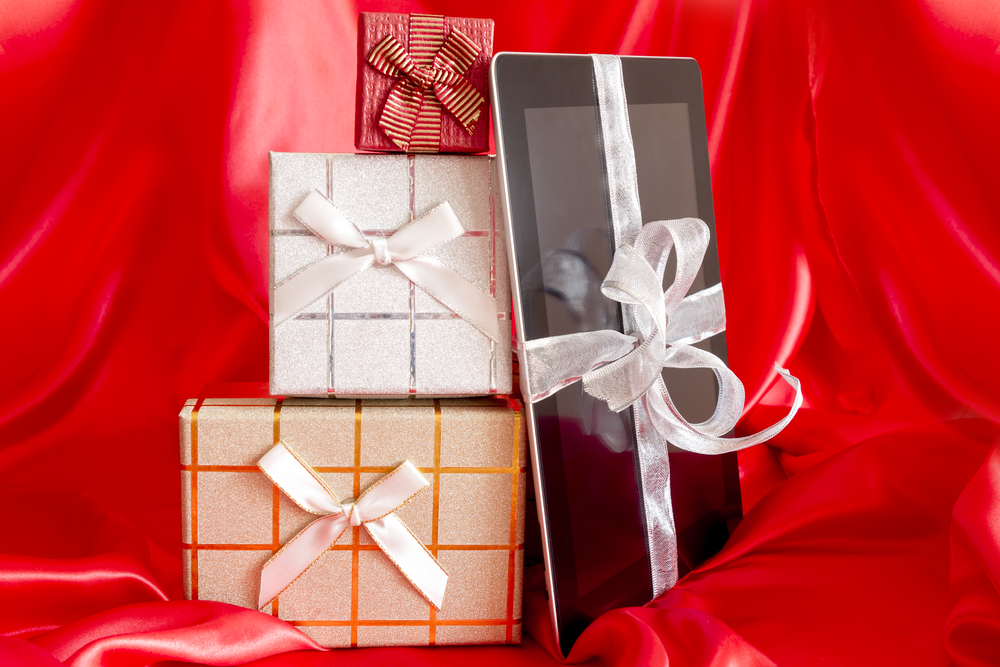 Unsurprisingly tablets proved to be a very popular gift this Christmas. According to mobile measurement firm Flurry, device activations were up by 63 percent on Christmas day, compared to any other average day in December.
Flurry's activation figures cover Amazon, Apple, Acer, and Samsung and reveal an interesting trend. While all four tech firms enjoyed a major bump on the day, activations were much lower this year than in the previous two years.
Amazon once again had by far the most popular tablet range this Christmas, something Flurry believes is down to "price, business model, target market, and form factor". Kindle Fire activations jumped by 24x on the day.
Apple usually experiences a larger Christmas lift than arch rival Samsung, and this year was no different, although the gap between the two manufacturers has narrowed significantly. Apple saw a 2.3x increase, while Samsung's bump was 1.9x.
Acer enjoyed a 5x jump in activations, due, Flurry believes, to "form factor and relatively low price".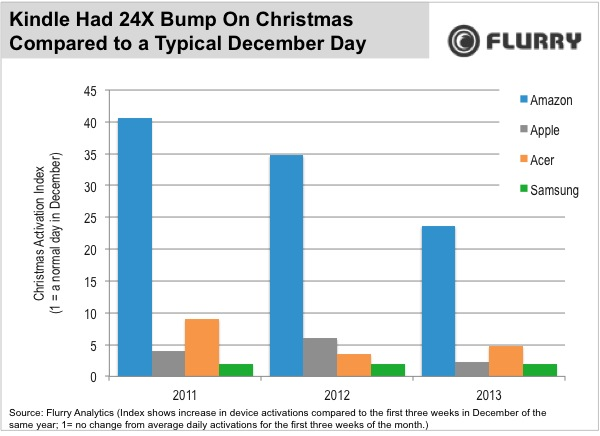 That year on year drop is interesting though and Flurry says: "Overall, while still significant, we can see that the size of the Christmas activation bump has declined over time for most manufacturers who ever had one. Even Amazon has dropped from forty-one times its baseline activations on Christmas 2011 to twenty-four on Christmas 2013. This is likely to be due to the increased overall penetration of smartphones and tablets, and is expected in a maturing industry. With more people having smartphones and tablets there are fewer new users to give them to, and giving to existing users is more challenging since existing users are already tied into carrier contract renewal cycles, app ecosystems, etc."
Flurry also found that Wi-Fi-only devices were easily the most popular type of tablet. That's to be expected considering they are cheaper and therefore better suited as gifts than ones additionally offering a cellular connection.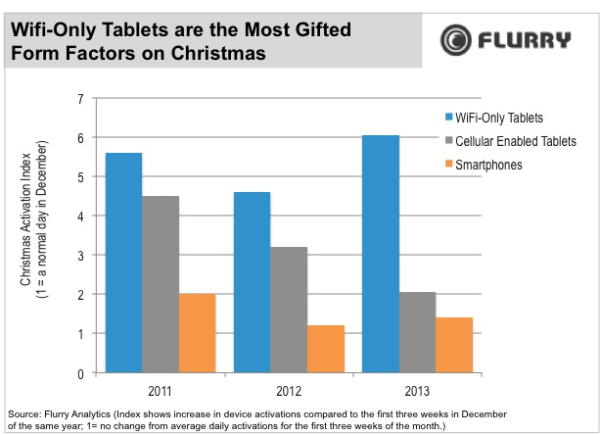 Did you receive a new tablet for Christmas this year? If so, which make and model?
Photo Credit: manaemedia/Shutterstock